Home
LINE UP
LINGA TURNS 30!
Compagnie Linga has celebrated its 30 anniversary at the Octogone Theatre in Pully with a big event!

On the programme, two pieces by our company, including a new creation, relayed by proposals from artists and friends who have crossed our path: CIE EPIDERME, BEAVER DAM CO, COLLECTIF KRASTEV / LAM / ZAGARI, MICHALIS THEOPHANOUS with the GREEK NATIONAL BALLET, OMAR RAJEH | MAQAMAT, CIE SPELLBOUND.
Final touch, a participative piece for 30 dancers from the local dance scene, each performing in their own style.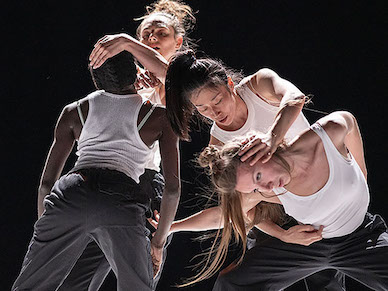 ---
Calendar
17/05/2023
Flow
Teo Otto Theater, Reimscheid (DE)
11/05/2023
Regards croisés (avec l'HEMU)
Studio L, l'Octogone théâtre de Pully - CH
28-29/04/2023
Nouvelle création
l'Octogone Théâtre de Pully (CH)
05/03/2023
Flow
Park Theater Iserlohn (DE)
22/01/2023
Flow
Teatro Marenco, Novi Ligure (IT)
21/01/2023
Flow
Teatro Sociale, Pinerolo (IT)
16-17/12/2022
Cosmos
Phönix Theater Steckborn (CH)
14/12/2022
Regards croisés (avec l'HEMU)
10/12/2022
Flow
Zagrebski Dance Center (HR)
08/12/2022
Sottovoce
KulturStadtLev Leverkusen (DE)
24.09.2022
Flow - Line Up
Octogone Théâtre dePully (CH)
15-16/09/2022
Flow
Festival Traces Contemporaines Cahors (FR)
31.08.2022
Sottovoce
Eglise St François, Lausanne (CH)
23.07.2022
Flow
Fullmoon Festival, Pyhäjärvi (FI)
18-19/06/2022
Linga Land 1
Musée cantonal des Beaux-Arts Lausanne (CH)
15/05/2022
Triskelion
Fête de la Danse, Neuchâtel (CH)
15/05/2022
Triskelion
Fête de la Danse, Rolle (CH)
18-19/06/2022
Linga Land 2
Musée cantonal des Beaux-Arts Lausanne (CH)
14.05.2022
Triskelion
Fête de la Danse, Yverdon (CH)
14.05.2022
Triskelion
Fête de la Danse, Moutier (CH)
11/05/2022
Triskelion
Fête de la Danse, Friburg (CH)
13.05.2022
Triskelion
Fête de la Danse, Winterthur (CH)
08/05/2022
Flow
Prospettiva Danza Teatro Padova
11/05/2022
Triskelion
Fête de la Danse, Geneva (CH)
07-08-09-10/04/2022
Flow
Festival Schrittmacher, Aachen (DE)
11/03/2022
Regards croisés (avec l'HEMU)
05.03.2022
Cosmos
Grand Théâtre de Calais (FR)
28 & 29.01.2022
Cosmos
L'Octogone, théâtre de Pully (CH)