Home
SAVE THE DATE!
LINE UP
LINGA TURNS 30
Saturday September 24th 2022 - from 7pm
L'Octogone, Théâtre de Pully
For our 30th anniversary, we invite you to a great dance party, featuring two of our company's pieces, as well as works by artists who have crossed our path. In the same evening, a lot of dance, videos, an after party with DJ and a participative performance with 30 dancers from our region.
Invited choreographies by
Cie Épiderme, Beaver Dam Co., Cie Krastev/Lam/Zagari, Michalis Theophanous, Cie Spellbound, Frantics...
Compagnie Linga
"Flow - Linga & Keda" (Swiss Dance Awards 2019) and "High season" (creation)
Reservations info@linga.ch
Online ticket office from August 15th www.theatre-octogone.ch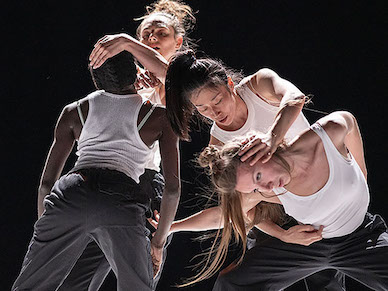 ---
Calendar
16-17/12/2022
Cosmos
Phönix Theater Steckborn (CH)
10/12/2022
Flow
Zagrebski Dance Center (HR)
08/12/2022
Sottovoce
KulturStadtLev Leverkusen (DE)
24.09.2022
Flow - High season
Octogone Théâtre dePully (CH)
15-16.09.2022
Flow
Festival Traces Contemporaines Cahors (FR)
31.08.2022
Sottovoce
Eglise St François, Lausanne (CH)
23.07.2022
Flow
Fullmoon Festival, Pyhäjärvi (FI)
18-19/06/2022
Linga Land 1
Musée cantonal des Beaux-Arts Lausanne (CH)
18-19/06/2022
Linga Land 2
Musée cantonal des Beaux-Arts Lausanne (CH)
15.05.2022
Triskelion
Fête de la Danse, Neuchâtel (CH)
15.05.2022
Triskelion
Fête de la Danse, Rolle (CH)
14.05.2022
Triskelion
Fête de la Danse, Yverdon (CH)
14.05.2022
Triskelion
Fête de la Danse, Moutier (CH)
13.05.2022
Triskelion
Fête de la Danse, Winterthur (CH)
11.05.2022
Triskelion
Fête de la Danse, Friburg (CH)
11.05.2022
Triskelion
Fête de la Danse, Geneva (CH)
08.05.2022
Flow
Prospettiva Danza Teatro Padova
07-08-09-10.04.2022
Flow
Festival Schrittmacher, Aachen (DE)
11/03/2022
Regards croisés (avec l'HEMU)
05.03.2022
Cosmos
Grand Théâtre de Calais (FR)
28 & 29.01.2022
Cosmos
L'Octogone, théâtre de Pully (CH)