Home
LINE UP
LINGA TURNS 30!
Saturday September 24th 2022 - 7pm
L'Octogone, Théâtre de Pully
Compagnie Linga celebrates its 30 anniversary with a big event!
On the programme, two pieces by our company, including a new creation, relayed by proposals from artists and friends who have crossed our path. Final touch, a participative piece for 30 dancers from the local dance scene, each performing in their own style.
Event in two parts with after
19h00 first part
21h50 dsecond part
24h00 after with DJ
Ticket office: www.theatre-octogone.ch
LINE UP
LINGA & GUESTS
First par

CIE LINGA / Flow (Swiss dance awards 2019)
Choreography: Katarzyna Gdaniec et Marco Cantalupo
Dancers: Aude-Marie Bouchard, Valentin Goniot, Ai Koyama, Clélia Mercier, Andor Rusu, Csaba Varga, Cindy Villemin
Live music: Keda (Mathias Delplanque & E'Joung-Ju)

CIE SPELLBOUND / Unknown Woman
Choreography: Mauro Astolfi
Dancer: Maria Cossu

BEAVER DAM CO. / Shiver
Choreography: Edouard Hue
Dancers: Edouard Hue, Angélique Spiliopoulos

CIE EPIDERME / Adventices
Choreography and dance: Nicolas Hubert
Live music: Pascal Thollet

KRASTEV / LAM / ZAGARI / On & On
Concept and dancers: Krassen Krastev, Caroline Lam et David Zagari

Second part
CIE LINGA / High Season (new production)
Choreography: Katarzyna Gdaniec et Marco Cantalupo
Dancers: Aude-Marie Bouchard, Kinda Gozo, Ai Koyama, Clélia Mercier

MICHALIS THEOPHANOUS - GNO BALLET / Harpy
Choreography: Michalis Theophanous
Dancer: Stelios Katwpodis

OMAR RAJEH | MAQAMAT / The Odor of Elephants after the Rain
Choreography and dance: Omar Rajeh

FRANTICS / Ordinary people
Choreography: Frantics
Dancers: Marco di Nardo et Juan Tirado

THE SOUL TRAIN
Production: Linga
Dncers: 30 dancers from the local dance scene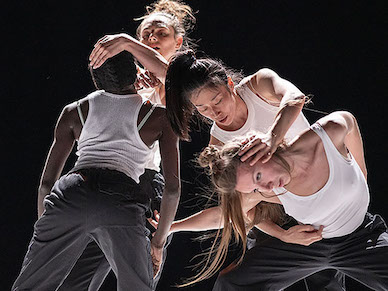 ---
Calendar
16-17/12/2022
Cosmos
Phönix Theater Steckborn (CH)
10/12/2022
Flow
Zagrebski Dance Center (HR)
08/12/2022
Sottovoce
KulturStadtLev Leverkusen (DE)
24.09.2022
Flow - High season
Octogone Théâtre dePully (CH)
15-16/09/2022
Flow
Festival Traces Contemporaines Cahors (FR)
31.08.2022
Sottovoce
Eglise St François, Lausanne (CH)
23.07.2022
Flow
Fullmoon Festival, Pyhäjärvi (FI)
18-19/06/2022
Linga Land 1
Musée cantonal des Beaux-Arts Lausanne (CH)
15/05/2022
Triskelion
Fête de la Danse, Neuchâtel (CH)
15/05/2022
Triskelion
Fête de la Danse, Rolle (CH)
18-19/06/2022
Linga Land 2
Musée cantonal des Beaux-Arts Lausanne (CH)
14.05.2022
Triskelion
Fête de la Danse, Yverdon (CH)
14.05.2022
Triskelion
Fête de la Danse, Moutier (CH)
11/05/2022
Triskelion
Fête de la Danse, Friburg (CH)
13.05.2022
Triskelion
Fête de la Danse, Winterthur (CH)
08/05/2022
Flow
Prospettiva Danza Teatro Padova
11/05/2022
Triskelion
Fête de la Danse, Geneva (CH)
07-08-09-10/04/2022
Flow
Festival Schrittmacher, Aachen (DE)
11/03/2022
Regards croisés (avec l'HEMU)
05.03.2022
Cosmos
Grand Théâtre de Calais (FR)
28 & 29.01.2022
Cosmos
L'Octogone, théâtre de Pully (CH)