Home
A NEW YEAR!
Dear friends,
2020 will not only be a year to forget: the difficulties, sometimes dramatic, encountered by all artists have stimulated solidarity, associative links, innovation, and a reflection on the precariousness of our professions. The absence of live performances has struck a chord with our audiences and public officials, missing live artistic contact has resounded far more than we ever imagined. New paths are already being traced to sketch out a future that is more connected, shared, local, responsible, and respectful of our role in society.
After too long a pause, we are eager to get back to the studio with our artists. In collaboration with musicians François Robin and Mathias Delplanque, the rehearsals of the new production COSMOS will begin in mid-January. You can already book the premiere dates at the Octogone, Théâtre de Pully, on April 24 and 25, 2021 here.
We have great confidence in the future. We believe that the performing arts have the power to gather people together to share an artistic experience. Looking forward to seeing you again in a theatre, we send you our best wishes for 2021 full of hope and live performances.
Katarzyna Gdaniec & Marco Cantalupo
SOTTOVOCE / production 2020
A cultural exchange project Croatia/Switzerland 2020/2021.
SWISS DANCE AWARDS 2019
FLOW by Compagnie Linga & Keda received the Swiss Dance Award 2019 / Current Dance Works !
The Swiss Dance Awards honour every two years exceptional artistic achievement. The award winners for Current Dance Works are chosen in the Swiss Dance Competition. The Federal Dance Jury selects them from among the submitted works for the two last seasons.

The awarded piece Flow was created by Katarzyna Gdaniec and Marco Cantalupo in 2018. This production for seven dancers and two live musicians marks the first collaboration with the Franco-Korean Keda duo, formed by Mathias Delplanque and E 'Joung-Ju.


The Swiss Dance Awards ceremony took place at the Théâtre Equilibre in Fribourg, October 17th 2019 in the presence of Federal Councillor Alain Berset.

Photo © BAK/Gregory Batardon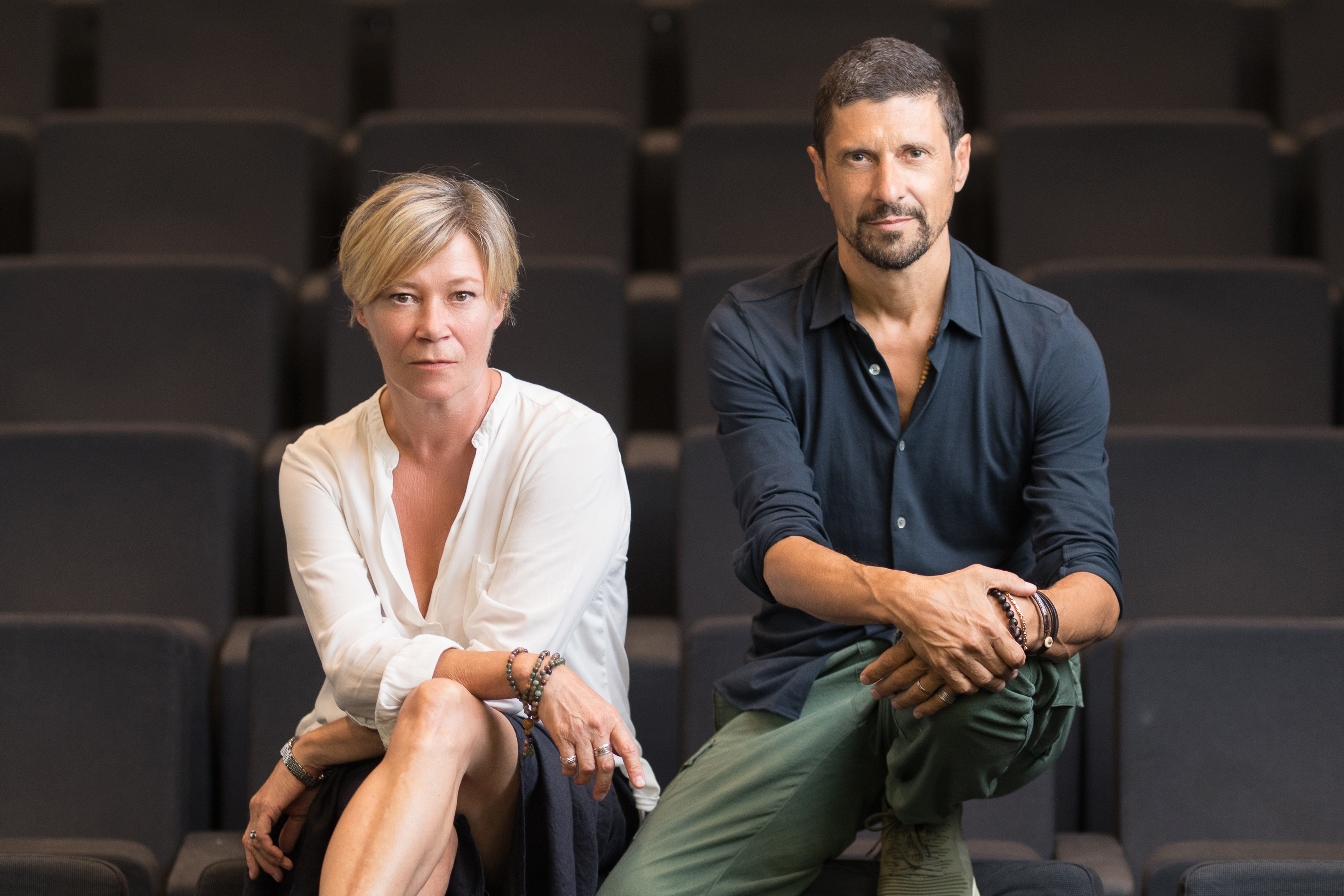 FLOW

Calendar
07, 08, 09.05 2021
Triskelion
06.05.2021
Sottovoce
Théâtre Benno Besson, Yverdon / CH
avril 2021
Sottovoce
KulturStadtLev FORUM Leverkusen / DE
24 & 25.04.2021
Cosmos - Nouvelle création
l'Octogone, Théâtre de Pully
12.12.2020
Flow (canceled - COVID-19)
Festival Traces Contemporaines, Cahors / FR
08.12.2020
Flow (canceled)
Grand Théâtre de Calais / FR
18.11.2020
Sottovoce (canceled)
17.11.2020
Sottovoce (canceled)
31.10.2020
Solographie (canceled)
Gala pour la Ligue vaudoise contre le cancer - l'Octogone Pully / CH
13.10.2020
Flow (canceled)
Bregenzer Frühling 2020 | Tanzfestival, Bregenz / AT
14.10.2020
Flow (canceled)
Bregenzer Frühling 2020 | Tanzfestival, Bregenz / AT
19.09.2020
Sottovoce (cancelled)
18.09.2020
Sottovoce (cancelled)
17.09.2020
Sottovoce (cancelled)
28.08.2020
Sottovoce / Open studio (cancelled)
Tanzmesse, Düsseldorf (DE)
19.07.2020
Triskelion
Kulturraum Festival, Rosenhof (DE)
18.07.2020
Triskelion
Kulturraum Festival, Rosenhof (DE)
10.07.2020
Flow (cancelled)
Festival Deltebre Dansa 2020, Deltebre (ES)
17.05.2020
Triskelion (canceled)
Fête de la Danse 2020, Rolle
16.05.2020
Triskelion (cancelled)
Fête de la Danse 2020, Delémont
17.05.2020
Triskelion (cancelled)
Fête de la Danse 2020, Neuchâtel
16.05.2020
Triskelion (cancelled)
Fête de la Danse 2020, Yverdon
15.05.2020
Triskelion (cancelled)
Fête de la Danse 2020, Genève
15.05.2020
Triskelion (cancelled)
Fête de la Danse 2020, Winterthour
14.05.2020
WALLS (cancelled)
Théâtre Benno Besson, Yverdon (CH)
15.04.2020
Flow (cancelled)
14.04.2020
Flow (cancelled)
11.04.2020
Flow (cancelled)
08.04.2020
Flow (cancelled)
04.04.2020
Flow (cancelled)
Teatro Santander, Bucaramanga (COL)
20.03.2020
Flow (cancelled)
29.02.2020
Sottovoce (premiere)
Première, l'Octogone, Théâtre de Pully (CH)
28.02.2020
Sottovoce (premiere)
Première, l'Octogone, Théâtre de Pully (CH)